This documentation was deprecated 08/01/17. Information here may be incomplete or out of date.
Creating Items
There are multiple ways to get your items into our system. We outline those for you below.
1. Platform Connection (recommended)
Connecting your sales platform
is the most streamlined method for inputting your products to Whiplash.
As part of your standard install process with Whiplash, you will connect your appropriate sales platform. During this process we will import your products automatically. Instructions for connecting the main platforms below. If you don't see your platform or have questions in general, don't hesitate to contact us.
2. via Ship Notice
A second way to create items is via the Shipnotice portal.
You will create a Ship Notice any time you are sending us inventory. This gives us a heads up that inventory is on the way, and ensures a smooth receiving process. When creating a Shipnotice (Inventory > Ship Notices), you can create new products not previously associated with your Whiplash account.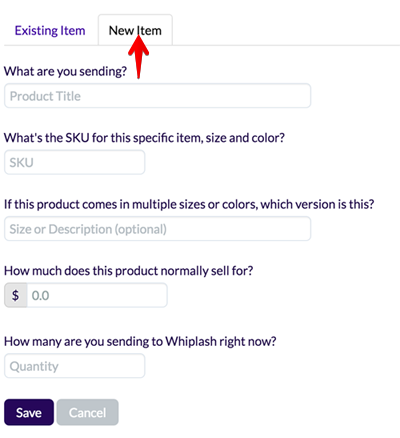 3. Manually
Rarely needed, but in certain instances - like creating product bundles - you may need to add a product manually. The link to do this is not in the menu, and is only available by using this link: Create Manual Item
DUPLICATE SKUs:
If two of these methods overlap and you create duplicate SKUs, you can run our
SKU De-Duplicator
.
The SKU De-duplicator is also accessed in your Account > Preferences Menu.