This documentation was deprecated 08/01/17. Information here may be incomplete or out of date.

Our Shopify app creates a realtime 2-way sync of product and order details. What does this mean? Install our Shopify App, choose what products you'd like us to fulfill, and when orders come through your shopify store, we receive them automatically. Our warehouses then process the orders. Once they have shipped, Whiplash updates your Shopify store with tracking information, closes the order, and updates inventory. It's that easy!
Installation
Start Here: Shopify App Store - Whiplash Fulfillment
Log in to your shopify store, then initiate the install process by clicking the button below
Log in to your Whiplash account or create a new one if you do not have one already.
You'll then be prompted to confirm the install
Whiplash will now have a full view of the product lines represented in your Shopify store. This is a crucial step: Select which products you'd like us to fulfill.
You'll receive a confirmation message, summarizing the products we'll be handling. Your last step is to check the settings in the admin section of your Shopify store to allow outside fulfillment.
Congratulations! Your store is now set up.
What's Next? Set up a SHIP NOTICE to let us know you'll be sending inventory our way.
Settings
In your Shopify store's SETTINGS > CHECKOUT - make sure the following are checked:
Do not automatically fulfill any of the order's line items
After an order has been fulfilled and paid, automatically archive the order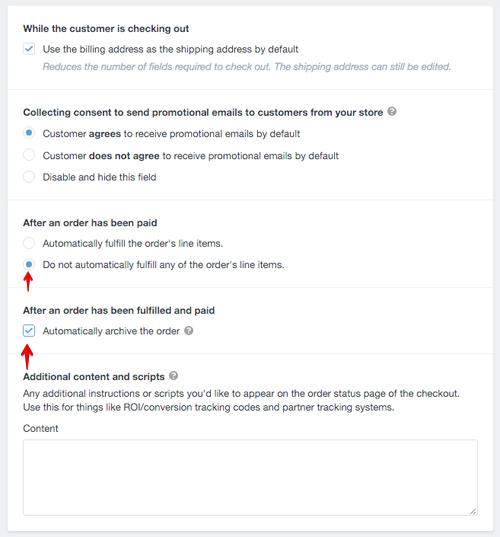 FAQ
If your orders aren't showing up in Whiplash, its most likely one of the following:

Your orders are Authorized in Shopify, but not Paid
Your product variants aren't set to be fulfilled by Whiplash
Your product variants aren't set to require shipping
The missing orders were created when the above product variant settings were incorrect

When you create products and variants in Shopify, they are synced to Whiplash almost instantly.
When stock arrives at Whiplash, the quantity in your Shopify store will be updated.
Closing an order in Shopify before its been shipped Cancels the order in Whiplash.
If you're sending products to Whiplash that will not be sold in your Shopify store, you can Create them directly in Whiplash.